Maintenance
Quickly check and maintain your nutrients and root health
Attachments
The Hydrobucket accepts all manifolds and grommets.
Stabilized Growth
Stop stressing your plant by moving your roots around.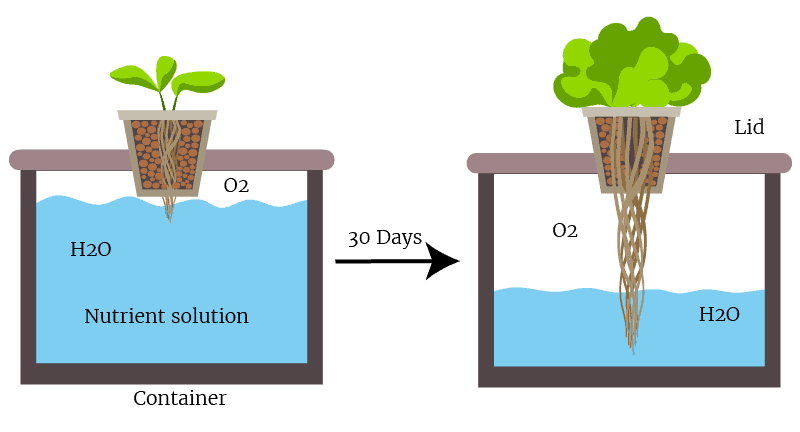 The Benefits Of Deep Water Culture
Deep water culture (DWC) is a method of hydroponics that grows plants in a nutrient-rich solution, rather than in soil. This method has a number of benefits for people who want to grow their own food at home, including high efficiency, less space requirement, easy setup and maintenance, and the ability to customize the nutrient solution. With its ability to grow plants faster and yield more, DWC is a perfect choice for those who wants to have their own food garden in limited space.
Types Of Crops For Hydrobucket
Being a type of DWC system, the Hydrobucket is best suited for growing plants that require a lot of water, such as cucumbers and tomatoes. These plants can be trained to grow up a trellis or support system, which helps to save space in the bucket. Overall, the best crops to grow in a Hydrobucket are those that are easy to grow, require a lot of water, and do not require a lot of space.
Hydrobuckets Are An Easy Way To Grow Large, Healthy Plants
The Hydrobucket is the perfect solution for those looking to grow their own food at home. Its deep water culture hydroponic method is efficient, sustainable and produces healthy, delicious crops. With a Hydrobucket, you can grow more in less space and with less water. It's easy to use, and it's perfect for those with limited outdoor space. Don't wait any longer, start growing your own food today with the Hydrobucket. Order now and start enjoying fresh, healthy, and delicious produce year-round!